OUR PRODUCTS
DATA SECURITY THAT WORKS.
To fully secure data, Cigent created two discrete solutions: Data Defense™ (for commercial and public sector organizations) to protect data on endpoints, wherever it goes and Secure SSDs (primarily for governments, critical infrastructure, and high-security enterprises) that protects data and meets Data At Rest compliance requirements.
Protect Data from Physical and Remote Attacks

Complements Existing EDR and FDE Solutions

Available as FIPS 140-2 Validated

Protection with Low to No Operational Overhead
DATA DEFENSE™
Software as a Service
Truly stop ransomware and data theft for all files on your endpoint devices with multi-factor authentication (MFA) for file access. Further make data invisible protected by non-recoverable keys on devices with secure storage. And keep data secure wherever it goes with file encryption and secure file sharing.
Features also include, but are not limited to, Enterprise Management and Security features such as group policy settings, threat reporting and notifications, enterprise digital rights management, key recovery, and integration with EDR, SIEM and Duo Security.
Capabilities in Data Defense™:
SECURE SSD™
Cigent's Secure SSD software is a potent tool that both safeguards data and complies with government-certified Data At Rest (DAR) compliance criteria. It is primarily intended for governments, critical infrastructure, and other high-security companies. With complete disk encryption, this software secures your critical data on any operating system. Other features include verified full disk erasure, multi-factor authentication (MFA), real-time threat detection and response, and secure logs that record all insider threat activities.
Available as internal and external storage.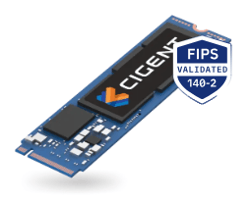 FIPS 140-2 Validated
Capabilities in Secure SSD™:
Automated Threat Response
SECURE SSD+™
Anti-Ransomware
Secure SSD+ has a dedicated AI microprocessor with machine learning that constantly monitors the data activity on your PCs. When ransomware is detected, the following methods will automatically protect your data:
Cigent Data Defense Secure Vaults automatically lock from within the storage device, preventing unauthorized access, including that from malware or even trusted Windows processes (such as RDP or PowerShell).
Cigent Data Defense software responds with "Shields Up" requiring MFA to access protected files.
The drive can also be put into read-only mode.
Complete this form to be contacted when the product is available for purchase.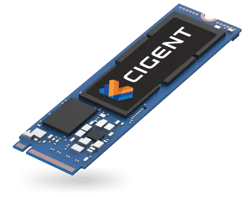 Capabilities in Secure SSD+™:
Automated Threat Response
Immutable Insider Detection